Archive for the 'Energy' Category
Monday, July 20th, 2015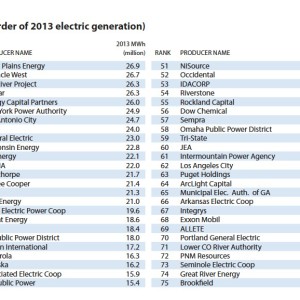 CERES
This report examines and compares the stack air pollutant emissions of the 100 largest power producers in the United States based on their 2013 generation, plant ownership, and emissions data. Table 1 lists the 100 largest power producers featured in this report ranked by their total electricity generation from fossil fuel, nuclear, and renewable energy facilities. These producers include public and private entities1 (collectively referred to as "companies" or "producers" in this report) that own roughly 2,800 power plants and account for 85 percent of reported electric generation and 87 percent of the industry's reported emissions.
View this complete post...
Polls
Polls
Is the administration moving fast enough on Infra issues? Are Americans prepared to pay more taxes for repairs? Should job creation be the guiding determination? Vote now!
Blog
The Infra Blog offers cutting edge perspective on a broad spectrum of Infra topics. Frequent updates and provocative posts highlight hot button topics -- essential ingredients of a national Infra dialogue.
---