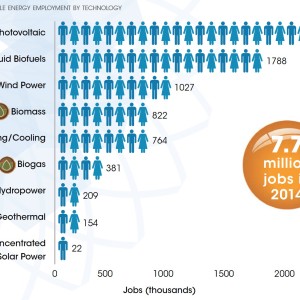 INTERNATIONAL RENEWABLE ENERGY AGENCY (IRENA)
IRENA estimates that renewable energy employed 7.7 million people, directly or indirectly, around the world in 2014(excluding large hydropower). This is an 18% increase from the number reported last year. In addition, IRENA conducted the first-ever global estimate of large hydropower employment, showing approximately 1.5 million direct jobs in the sector.
View this complete post...