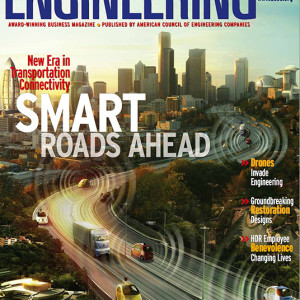 AMERICAN COUNCIL OF ENGINEERING COMPANIES
The automobile is undergoing a radical transformation. Advancements in technology, along with growing pressure to reduce congestion, trim carbon emissions and improve safety, are fueling the concept of connected cars and smart transportation systems.
How these technological advances will impact America's roadways is a new challenge facing engineering firms. There's growing demand to develop smart infrastructure systems that do things such as alter traffic flow dynamically. Motorists are using apps, such as Google Maps and Apple Maps, to bypass congestion and incidents, but far more advanced vehicle-to-vehicle (V2V) communication and vehicle-to-infrastructure (V2X) systems lie ahead.
View this complete post...