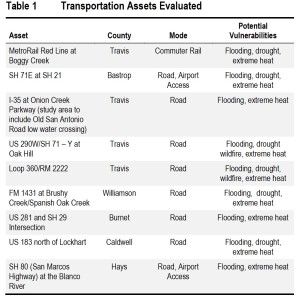 CAPITAL AREA METROPOLITAN PLANNING ORGANIZATION (CAMPO)
The specific purpose of this study was to assess the potential vulnerability of a limited selection of critical transportation assets in the CAMPO region to the effects of extreme weather and climate; to highlight lessons learned in the process, and to outline potential next steps toward enhancing the resilience of the region's transportation infrastructure. The assets evaluated include roadways, bridges, and rail, and the climate-related stressors considered were flooding, drought, extreme heat, wildfire, and extreme cold (icing). Commensurate with the region's Long-Range Transportation Plan (LRTP) – under development at the time of writing), the year 2040 was selected as the analysis horizon.
View this complete post...