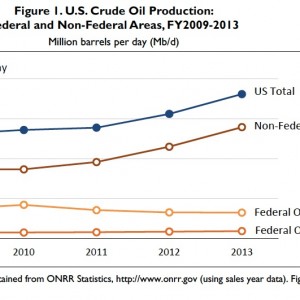 CONGRESSIONAL RESEARCH SERVICE
A key question in this discussion is how much oil and gas is produced in the United States each year and how much of that comes from federal versus non-federal areas. Oil production has fluctuated on federal lands over the past five fiscal years but has increased dramatically on nonfederal lands. Non-federal crude oil production has been rapidly increasing in the past few years partly due to favorable geology and the relative ease of leasing from private parties, rising by 2.1 million barrels per day (mbd) between FY2009-FY2013, causing the federal share of total U.S. crude oil production to fall by nearly 11%.
View this complete post...