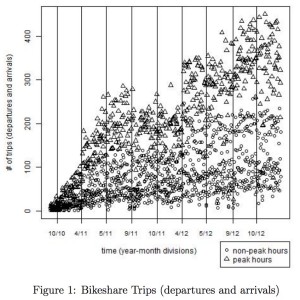 RESOURCES FOR THE FUTURE
A new mechanism to reduce urban traffic congestion that is currently gaining traction for its purported cost-effectiveness, environmental-friendliness, and positive health impacts is the adoption of citywide bicycle-sharing systems. This infrastructure provides an alternative to driving for short trips and extends the existing network of public transit within a metropolitan area. Further, bicycling infrastructure augments the environmental bona fides of densely populated urban areas (Kahn, 2010). If bikeshares reduce traffic congestion, they may provide a low-cost policy lever to reduce automobile externalities in urban areas.
View this complete post...