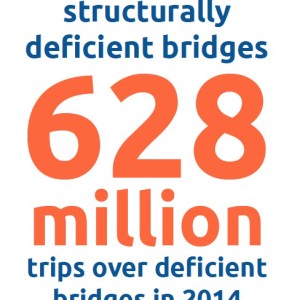 TRANSPORTATION FOR AMERICA
The average age of these sub-par bridges is 66 years — well over the typical design life of 50 years and nearly double the average age of all Minnesota bridges (35 years old). More than one in ten Minnesota bridges were built before 1948 — which means more than 1,300 bridges are older than the Korean War and creation of Medicare…Minnesota drivers collectively took close to 628 million trips over deficient bridges in 2014. That's more than 1.7 million trips per day or almost 1,200 trips every minute taken over deficient Minnesota bridges in 2014.
View this complete post...