LEAGUE OF AMERICAN BICYCLISTS
Bridges are important. Whether over rivers, lakes, or built obstacles such as freeways, bridges are critical to bicyclists. Inaccessible bridges can force substantial detours or sever routes entirely, effectively discouraging or eliminating bike travel. As veteran Seattle bike and pedestrian planner Peter Lagerwey says: "If you can't get across the bridges, nothing else matters." In addition to their practical worth, bridges are also often high‐profile, large‐scale projects; the inclusion of bicycle facilities is an important symbolic recognition of the role of bicycling and walking in transportation networks.
Bicyclists can expect to see more and more bridges under construction in the coming months and years, creating opportunities (and risks) for bicyclists. According to the Government Accountability Office, one quarter of the 602,977 bridges on the country's roadways is either structurally deficient and in need of repair, or functionally obsolete and is not adequate for today's traffic needs. Seventy‐one thousand of them are considered structurally deficient, with a major defect in structure or deck. In some states, more than 20 percent of the bridges fit this description. A 2010 report by the U.S. PIRG Education Fund observes that, "Generally, engineers build bridges in the United States for a useful life of 50 years. The average age of America's bridges is now 43 years, with 185,000 over 50 years old. By 2030, that number could double." These overdue bridge repair or replacement projects mean more chances to open up bridges to biking and walking than ever before. But if they are replaced without proper accommodation then it means a once‐in‐a‐generation missed opportunity.
Recognizing the critical importance of bridge access for cyclists, in March 2010 the U.S. Department of Transportation (DOT) released a much‐heralded policy statement on bicycling and walking that encourages state DOTs to include biking and walking accommodations on all bridge projects. Some transportation agencies already provide safe and well‐designed accommodations for bicyclists and pedestrians on their bridges. But far too many do not do so reliably. As one advocate said about his DOT's bridge engineers, "They hadn't even thought of bicyclists before we started showing up to meetings." This is why advocacy campaigns are so important.
This report identifies some of the common objections to bridge accommodations for biking and walking and offers suggestions on how to answer them. It also contains recommendations based on the experience of several successful and ongoing advocacy campaigns. Experienced advocates have learned that bridge campaigns require the same basic organizing techniques that will serve them well in most major campaigns. They took advantage of all public input opportunities and built a coalition of organizations, grassroots supporters and volunteers, and internal champions. They took advantage of opportunities that came up, focused on design issues, remained committed and patient throughout long campaigns, and sought to institutionalize good planning practices for the future.
As the stories in this report demonstrate, bridge campaigns can be long and challenging, but the hard work can pay off. There are many examples where the combined efforts of advocates and supportive insiders have been able to dramatically improve transportation access for people on bike and on foot. Other regions have not been so lucky. See Appendix II for examples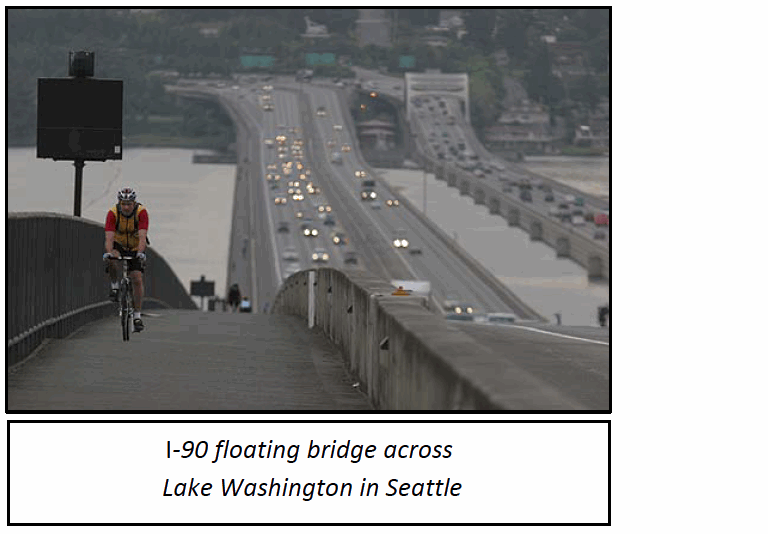 where failure to include safe bike access on bridges is still impacting bicyclists.
Download full version (PDF): Bridging the Gaps in Bicycling Networks
About League of American Bicyclists
www.bikeleague.org
"The League began as the League of American Wheelmen (LAW) in 1880, and was responsible for defending the rights of cyclists from its start. The League of American Wheelmen is credited with getting paved roads in this country before the reign of the automobile."
Tags: Bicycling, Cycling, League of American Bicyclists, Seattle, WA, Washington